Two heads can plan the future better than one
Raising Capital, Financial and Strategic Planning, Coaching
and Mentoring, Turnaround Management, Merger and Acquisition, Board Membership, and Advisory Services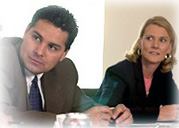 Planning your company's direction can be a full time job, and face it, you already have one. Whether you're looking to release a new product, expand your current line, add a new facility, or just steer your business along a more profitable course, it's crucial to receive impartial, objective advice from someone who has no personal agenda or stake in your company. Someone who can help you devise a sound, forward-thinking, creative strategic plan. Someone like Peyton Investments.
Tap into our real-world experience. Reap the benefits of our fresh, objective insight under the guiding hand of Jeffery D. Stein. Because we don't have a vested interest in anything other than obtaining strong results for your company, we have a clean, unbiased view of your business and how to take it to the next level. Our deep knowledge and operational experience comes from having been there—we've owned, operated, and consulted with a wide range of companies. We believe in results, and have a roster of satisfied clients who will vouch for our ability to achieve them.
Let us give you the interim assistance you need to create a dynamic, robust, and above all, realistic plan to guide your company through the changes necessary to ensure long-range stability, growth, and profitability.