We all need someone to talk to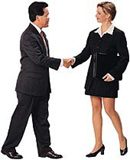 It's tough at the top. Your ever increasing responsibilities and workload don't leave you enough time or energy to guide the company as you'd like. You find yourself spending more time putting out fires than making forward-thinking decisions. You're performing your job effectively, but you're just not growing. You realize you're surrounded by people who have their best interest in mind — board members, accountants, shareholders, family, and employees — but no one is looking out for you. Wouldn't it be nice to have someone to turn to, someone you can talk to when you need to kick around ideas, hash things out, or problem-solve?
Executive coaching under the guidance of Peyton Investment's Jeffery D. Stein is the answer. By forming a one-on-one relationship with a coach who has been there, you can get the independent, objective, and fresh outlook and guidance you need. Tap into our years of experience—practical, hands-on, operating experience that will give you the extra guidance and support you need to help you through a difficult business or personal phase. We know what it's like because we've been there. And we have a proven track record with references to back it up.
Learn how executive coaching from Peyton Investments can help you develop the skills necessary to grow and evolve so you can attain the success you desire.