Who can benefit from Executive Coaching?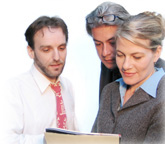 There are many situations in which executive coaching can be beneficial, including:
A desire to improve leadership skills and overall job satisfaction.
A need to chart a new course for a department or the company.
Assistance in re-establishing priorities when approaching burnout, including finding a balance of work and personal life.
A need to seek counsel on ways to achieve greater company profitability.
A desire to strengthen interpersonal and relational styles to improve subordinate job performance and retention.
Assisting a technically competent executive who may lack softer people skills.
These are just some of the many instances in which executive coaching can help.
A few questions to ask yourself:
Are you feeling isolated and pressured by the demands of your business?
While everyone depends on you, do you sometimes wish there was someone who could give you advice and encouragement?
Would you like to get more satisfaction out of your work?
Are you ready to advance your business or career to the next level?
Do you have a good idea but haven't run a company before?
Is your business expanding quickly and you need an "extra pair of hands?"
Have you been offered a unique opportunity to add a new product but have no one who can give you an unbiased point of view?
Are there family shareholders who are causing you frustrations?
Do you want to sell your company but you're not sure what to do?
If you answered yes to any of these, Executive Coaching can help!