What is the Executive Coaching process like?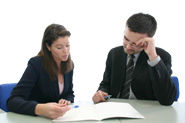 Executive coaching is a one-on-one, customized and personalized program of communication between a coach and an executive. The coach's role is to help guide your decisions, not make them for you. Much of what an executive coach does is ask powerful, nonjudgmental questions which help you examine yourself, your career, and your current issues more closely, giving you a new perspective. He or she will listen carefully to what you're saying so as to fully understand your individual needs and goals. Often you'll be pushed out of your comfort zone and encouraged to take risks. The basic steps include:
Identifying key issues

If necessary, consulting with others in the company
Giving feedback
Helping to set goals
Creating and implementing action plans
Executive coaching can be short-term, recurring, or on-going, depending on your specific needs. It can take place in person, over the telephone, via email, or using instant messaging. And your coach is available 24/7 because problems don't always arise during business hours. Through a series of positive, constructive, and candid discussions, you will uncover the information necessary to implement changes that lead to long-term career development.