An idea is only as good as the capital to make it happen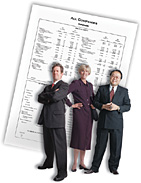 The last thing you want to hear when your company has a great idea, a ready-to-market product, a new large customer, or an opportunity to gain market share is that there's no capital available. Peyton Investments has experience in helping growing companies solve their capital needs in creative ways. Funds from our own resources or our extensive private equity and angel investor network with our experience at raising capital—whether through our funds, debt resources, seed capital, angel investors, venture capital, or other sources—means virtually any size project can become a reality.
Creative financing is the name of the game. Since the Internet bubble burst, the IPO market has dried up. Professional investors are holding back from financing new, viable ventures because of the difficulty in reaping a return on their investment. And due to limited funds, venture capital firms have been forced to choose which companies in their portfolio they'll continue funding, no matter how sound the investments might be. We have the experience to tap into any or all of today's financing options to solve your emerging company's capital needs, including:
Debt
Angel Investors
Accomplished CEOs looking to invest and offer their assistance in finance, sales, networking, and marketing
Seed Capital
Venture Capital
High Net Worth Individuals
Strategic Alliances and Partnerships coupled with their investments
Have a great idea? Need capital? Start-ups, mezz, or in-transition companies welcome. If you have a business plan, submit it to Jeffery Stein via email and we'll get back to you soon. PDF, DOC, or PPT files are all accepted.