It's better to have a copilot than to run on autopilot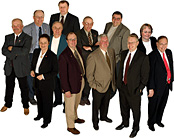 Running a successful business is difficult enough, the current state of the economy makes it even more of a challenge. Private and small cap companies in particular can often use expert interim assistance to help guide them. Peyton Investments, under the leadership of Jeffery D. Stein, can help your company through these times with services that make a difference.
Board membership
In many cases, private and small cap companies either don't have a functioning board of directors or have none at all. This is a mistake. It's critical to have a board that can play an active role, concentrating on the growth and stability of your company so the executive team can focus their energies on turning that future into a reality. Peyton Investments can provide the kind of leadership and participation you need on your board to help ensure that your company stays on the right track.
Advisory services
Times of dramatic change within a company often lead to havoc. Sudden, unexpected situations arise which require fast, immediate, and dynamic attention, such as the loss of a bank line, defection of a major client or customer, a key employee leaving, unpredicted growth, a drop in sales, or unexpected cash shortage. In situations like these, the CEO and top management come under great pressure. Often the boards they turn to for help and advice are comprised of investors and family members whose main concern is their personal share value, not the total picture of the company's future. This can leave the CEO on a deserted island with no place to turn for help in making sensible, wise decisions about what's best for the company. Peyton Investments can act as an interim advisor to CEOs and top management, assisting them in guiding the company through the hazardous straits and helping set its course in a direction that will be of long-term benefit for the company, its employees, and its owners/stockholders.
Recruiting and staffing services
Do you need to staff a whole department, hire a senior executive, are there many key positions to fill, do you need technical, administrative, accounting, finance, sales, marketing positions filled? Peyton Investments has the capability to rapidly assist and carry all or most staffing needs in a tight or down employment markets. Our experience in staffing is fast and far less expensive then using recruiting firms, using top-level executive time, or using in-house human resources departments.