Raising Capital, Financial and Strategic Planning, Coaching
and Mentoring, Turnaround Management, Merger and Acquisition, Board Membership, Advisory Services, and E-Commerce Acquisitions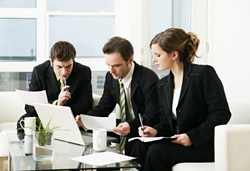 A company is a living, growing entity with a natural life cycle, much as our own. From birth through youth, adolescence to maturity—even old age—a company goes through many growth phases. Each step of the way offers fresh challenges, new paths to take, and new decisions to be made. All the while having to sidestep the hazards and survive the growing pains. We can help you navigate this path by guiding you through the transitions, making your company's growth smoother, more successful, and more profitable. Our team, led by Jeffery D. Stein, offers mentoring, executive coaching, capital fundraising, financial planning, merger and acquisition recommendations, and strategic advisory services.
Our creative formula to help your company grow dramatically through an acquisition campaign can make significant positive changes in your company in a short amount of time and it can be a simpler and easier process than one can imagine.